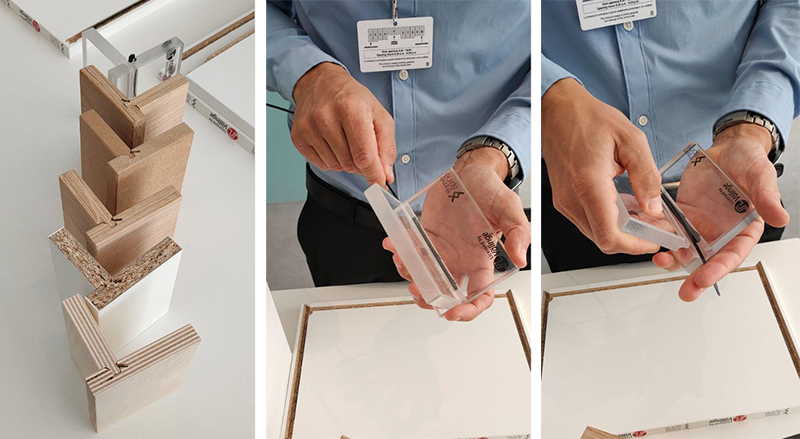 Materially's Insights from Sicam Expo 2022
Among our activities of consultancy, research and knowledge transfer, we always find the time to attend important international fairs and exhibitions that represent a key reference for several industrial sectors.
Performance and sustainability were definitely the main drivers of this year's Sicam exhibition in Pordenone (Italy), dedicated to the wood, furniture, and components industries.
You will see here about some of the most interesting solutions we discovered during our visit.
Design for disassembly
Generally speaking, the high quality of a product is perceived through its stability and reliability of assembly. These features require years of testing and experience, and usually involve the use of large amounts of screws and gluing systems. Due to the always growing relevance of e-commerce and thinking about the overall environmental impact of the production chain, faster systems that don't require the use of glue or tools are increasingly under development.
Thanks to the new design of a custom interlocking system, inspired by the floating floorings industry, a quick and effortless process for consumer assembling and disassembly has been showcased by Välinge. Suitable for wood and laminates, but also for rigid plastic boards such as polycarbonate, the system allows for a fast and solid interlocking between two parts, without the need of any additional glue or screw. Thanks to the custom opening pin, the parts can be easily disassembled in just one move.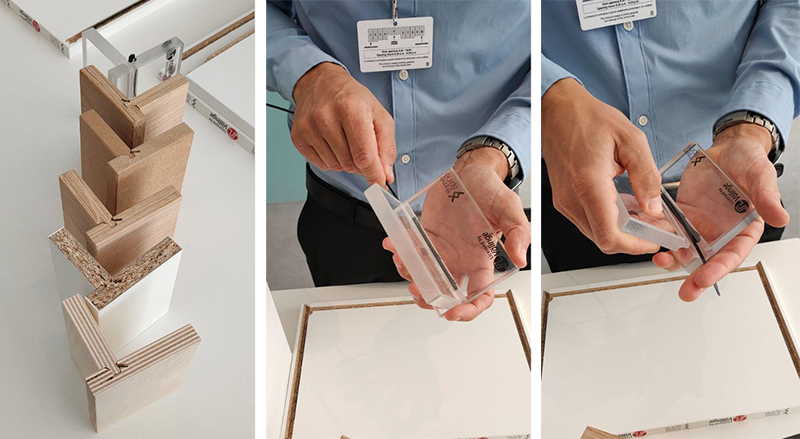 Three-Spine interlocking system by Välinge
Functional coatings
Surface coatings have a fundamental role in manufacturing since they define the outer visual and physical properties of the materials' finishes such as a matt or lucid look, anti-fingerprint and dirt-repellent properties, warmth to the touch, scratch and heat resistance and so on.
These coatings often consist of thin polymeric film, i.e. plastics, applied to surfaces via different techniques.
Thin films already made of 70% recycled PET from post consumer waste have been showcased by Upco Functional coatings. The German-Italian company, by collaborating with suppliers, scientific partners and recycling companies, proved the feasibility of a closed loop recycling for its release films. These thin films can undergo an innovative monomer recycling process that eventually leads to the production of further films, thus reducing the amount of virgin raw materials involved in the production chain.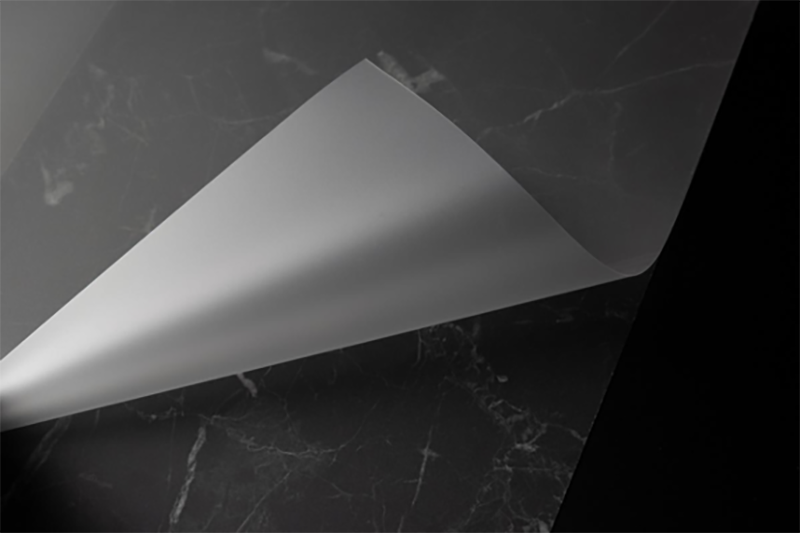 70% Recycled PET thin film for improved surface properties
Novelties in decorative panels
Decorative polystyrene-based panels that recreate the complexity of metallic surfaces, with their light scattering effects, represent a viable solution to reduce the environmental impact of a project for visual or interior design. When working with real metals, in fact, even though technically endlessly recyclable, further consideration should be given to surface treatments, that usually involve a relevant use of chemicals, and to their weight, that inevitably affect environmental parameters such as energy consumption and transport.
These panels from Sibu design are not just pvc-free, laser compatible and lightweight, they are also compatible with a magnetic system that allows to easily swap the covering with another one from a different collection, without the use of glue or other anchoring system that could possibly alter the backing support.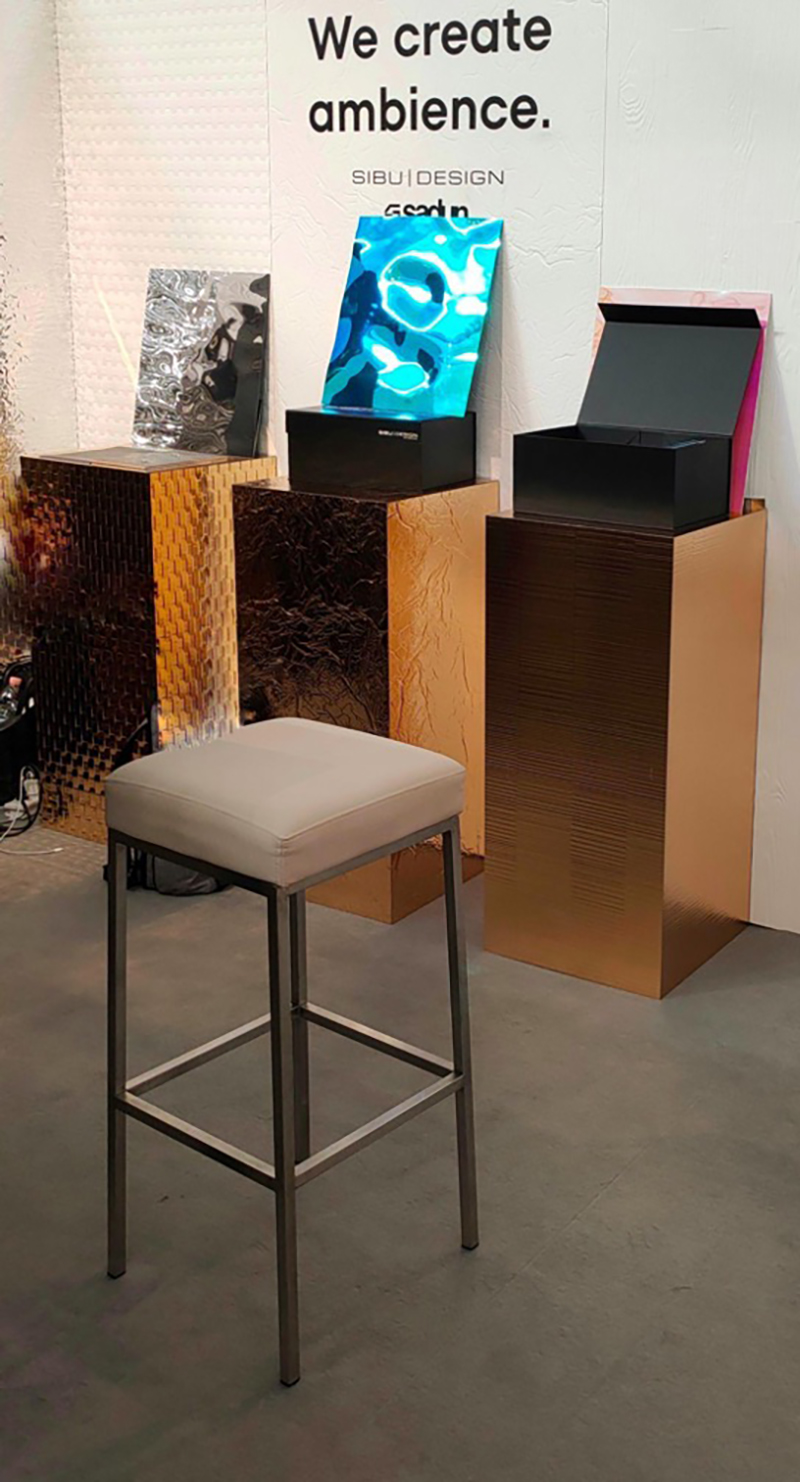 Realistic metal-looking lightweight decorative panels
Recycling
Talking about polystyrene, a material being extensively used across several industries, for several decades, the Ukranian company The Good Plastic Company developed a process to recycle this material, collecting post industrial and post consumer scraps from the furniture, appliances and packaging industry transforming it into decorative board and panels that can be custom designed and thermoformed for several application, such as table tops, pedestals, wall coverings, interiors, exteriors and displays.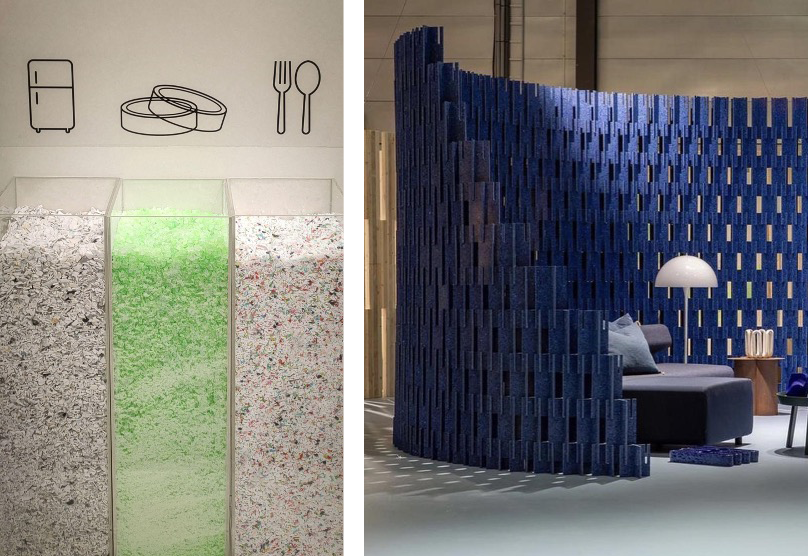 EPS collected scraps & Polygood material by The Good Plastic Company