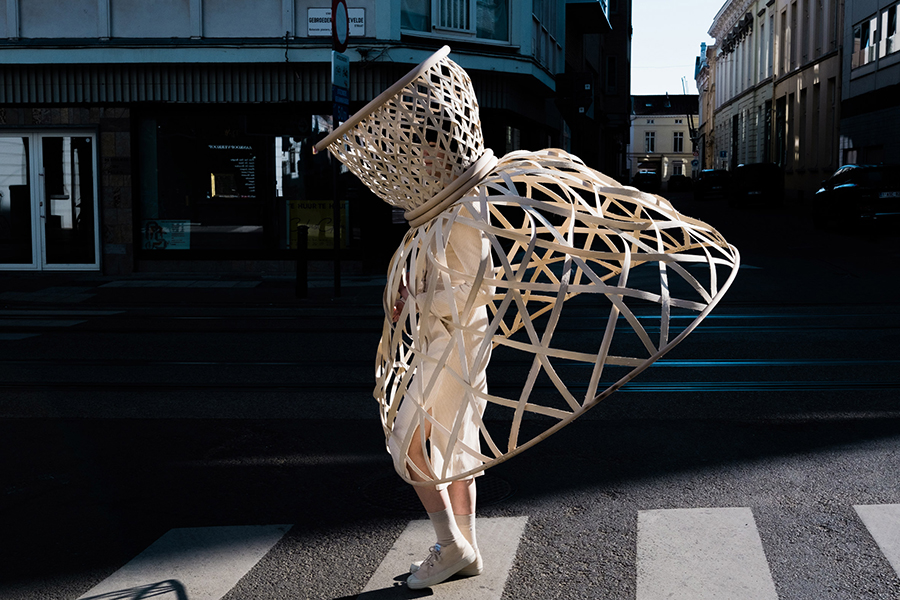 Currently, research and experimentation on these issues continue and are also emphasized by the condition we are in during the Covid-19 pandemic.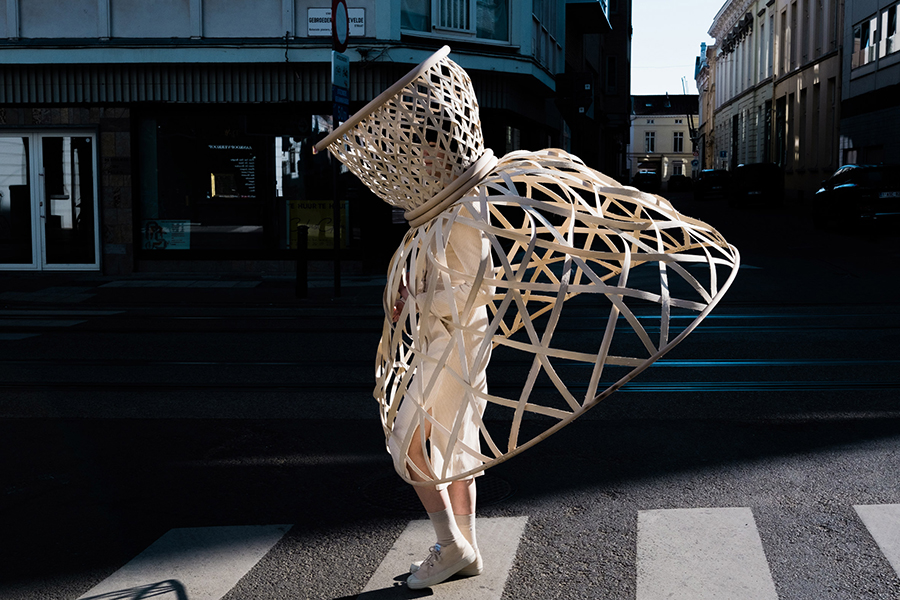 Well-Distance-Being di Livable
Some projects, born in 2020, aim to raise awareness of the need for social removal to slow down the spread of the virus. Well-Distance-Being, created by Livable – a research and design platform – is a rattan frame, a scaffolding around our body. "Physical distance isn't about being cold or far away; mentally it's about being loving and present for those who need it most" said Verboom, the founder of Livable.
Verboom has chosen to make rattan wearable (in botany the name rattan includes various species of climbing palms) as a sustainable alternative to wood.
"We are communicating a critical health message in exchange for a smile, in times when the importance of a healthy mind is more important than ever" added the designer.
Well-Distance-Being di Livable
Already in 2015, the artist Ana Prvački had presented her work L'air pour l'air at the second Architecture Biennale in Chicago.
An installation / performance, still current today, aimed at protecting yourself. A work composed of a set of nets that filter the air and purify it through the breathing of the people who wear it.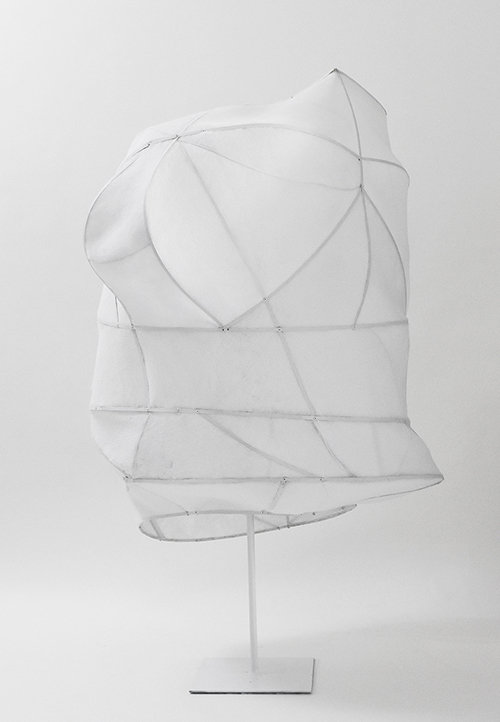 L'air pour l'air di Ana Prvački – Image credit Iwan Baan, Laurian Ghinitoiu
During the first performance, the clothes / sculpture were worn by the Chicago Sinfonietta ensemble, consisting of saxophone, flute, trombone and voice, through the execution of an original De Aere composition by composer Veronika Krausas. During the performance, the musicians "cleaned the air that produces the music" said the artist. The work encourages viewers to meditate on complex issues such as the relationship between the purity of the air we breathe and the pollution of our cities, and the distinction between self and nature.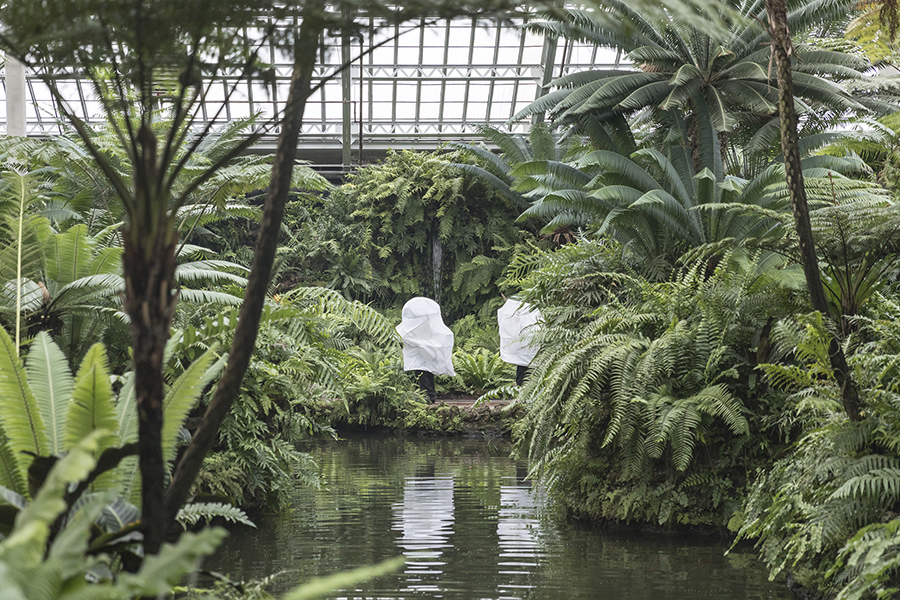 L'air pour l'air di Ana Prvački – Image credit Iwan Baan, Laurian Ghinitoiu
Finally, masking is one of the oldest folkloric traditions found in every culture. Disguise or adorn our faces to achieve multiple purposes such as: instilling fear during fights, becoming mysterious at a dance or protecting ourselves from the plague.
Today young designers draw inspiration from them to comment on modern phenomena.
Some designers are making masks to protect us from Covid-19, others are focusing on the concept of masking in a broader sense, using the expressive medium of social media, in particular Instagram.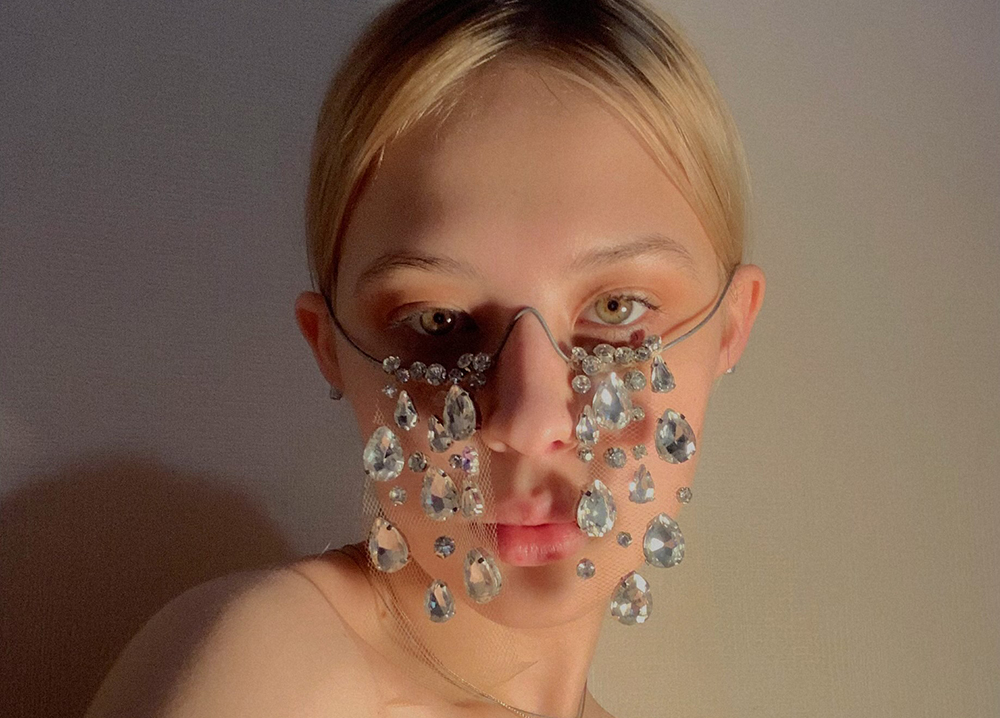 Maschera Maschera di Polina Osipova
Among them Polina Osipova, Russian designer who has created numerous works such as Crystals dripping like tears from the eyes, lace swans adorned with pearls. Her works mixing folk art with an Instagram aesthetic, the designer proposes a 21st century version of the sparkling jewels worn by the Russian court's Tsarina. The artist drew the attention of Gucci who commissioned her to use an Instagram filter mask.