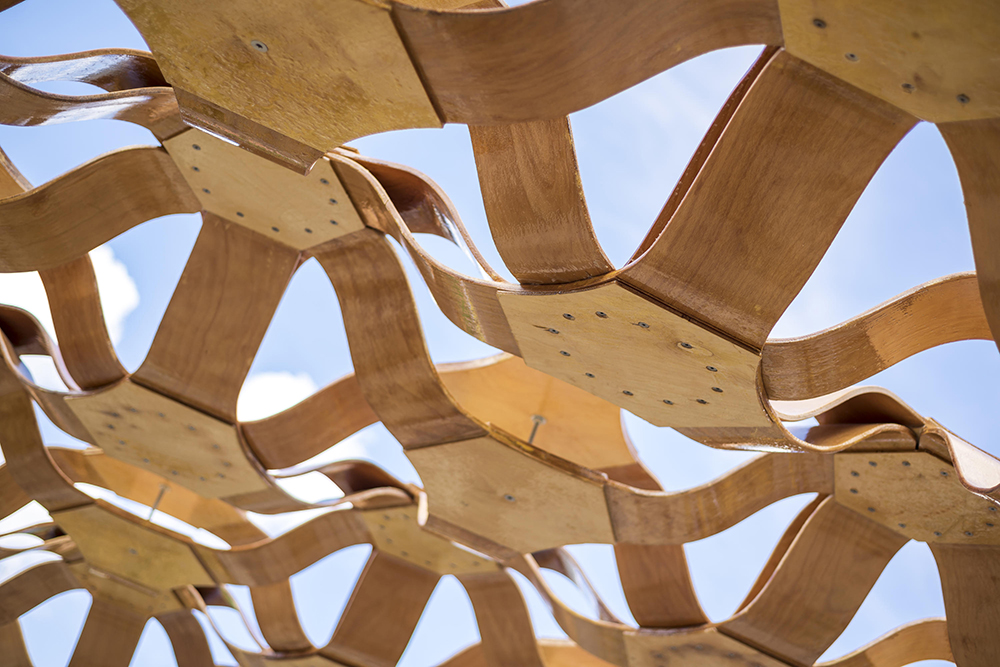 Pavilion in biocomposite material in Stuttgart
Lo scorso Agosto il dipartimento BioMat (che concentra la propria ricerca sull'applicazione di materiali biobased in architettura) della facoltà di Building Structure e Structural Design dell'Università di Stoccarda (ITKE) ha progettato e costruito un padiglione in materiale biocomposito, un prototipo interessante nel campo dell'architettura sostenibile.
Tre travi lignee curve che si incrociano nel centro della copertura del padiglione sorreggono una struttura progettata grazie al calcolo parametrico e realizzata in materiale biocomposito.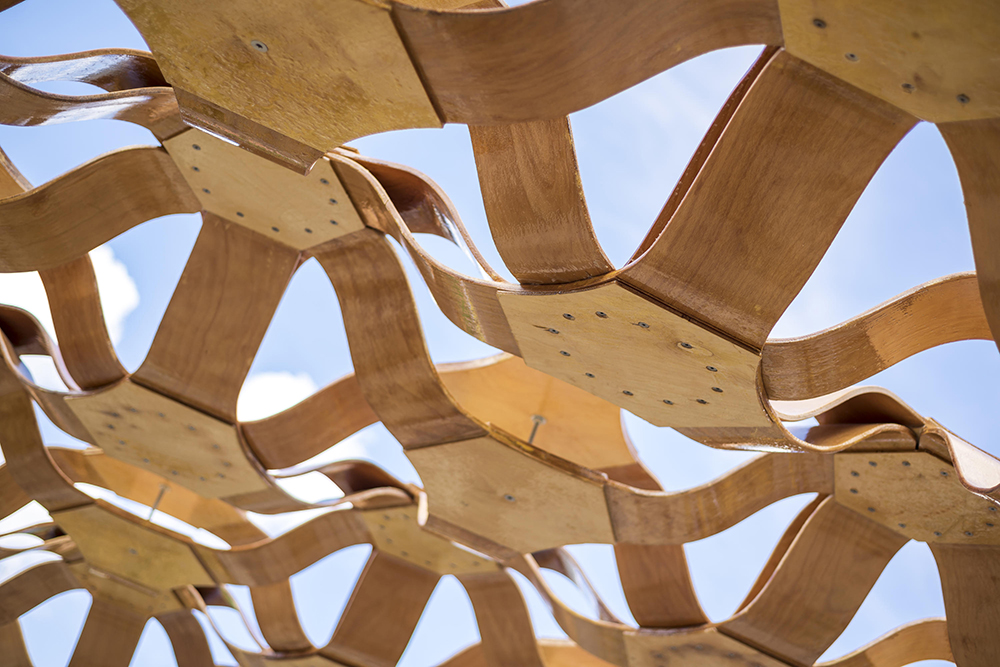 Gli Three curved wooden beams that cross in the center of the roof of the pavilion support a structure designed thanks to the parametric calculation and made of bio-composite material.
The elements that make up the roof are made of curved panels obtained from a mixture of natural fibers (waste from the agricultural sector) and a type of bioplastic according to an extrusion process. These panels have an incredibly greater flexibility than those normally made of MDF and allow to be modeled even with double-curved shapes without resorting to heat or water-based treatments..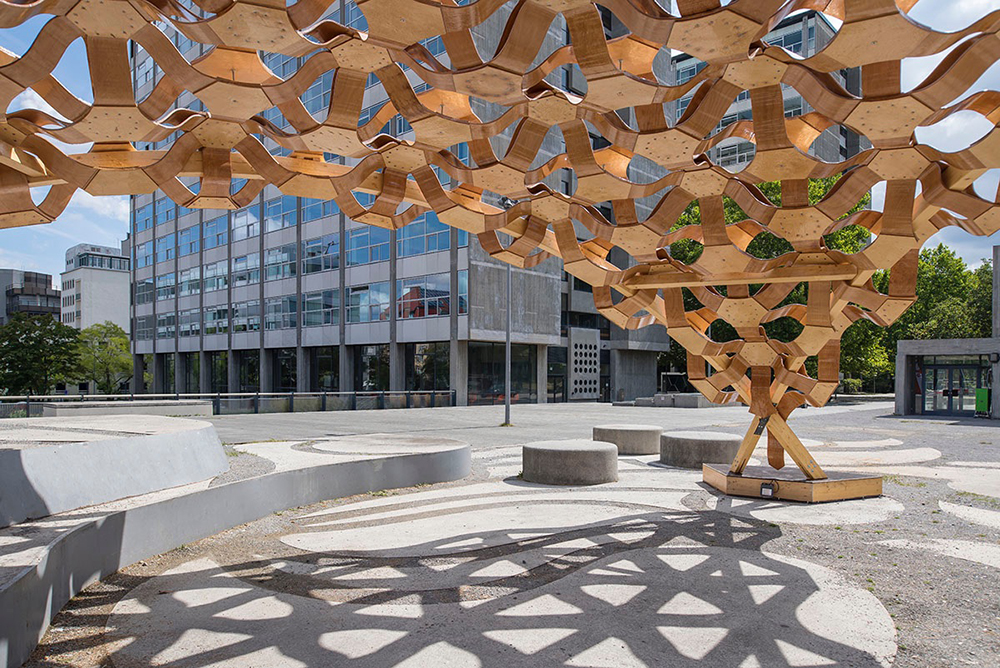 The panels, cut by CNC, are then laminated with two thin external layers of veneer, which are also able to withstand the double curvature that is impressed in a process for the entire layering. This lamination allows to improve the mechanical properties that the single internal bio-composite panel would have.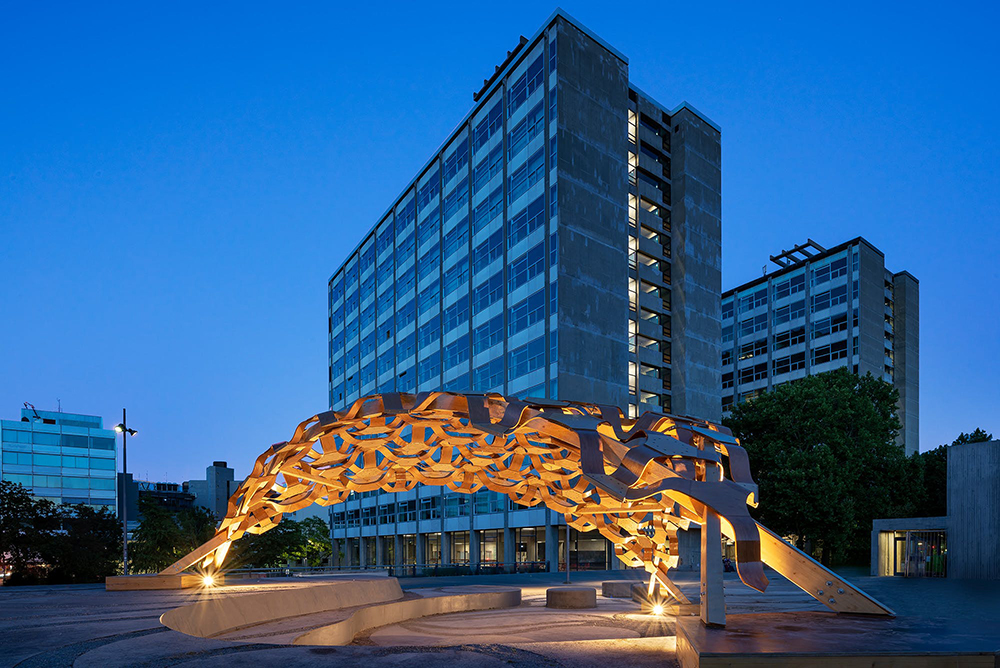 With a similar technique, another one-way and therefore more rigid fiber panel was created to create the central nodes of the roof structure. The panels were then glued and configured in the various modules (central part and flexible parts) and finally the modules fixed by screws between them. The use of the screws has allowed not only a quick assembly but also an eventual easy disassembly and reuse of the individual modules in another configuration, if necessary, at a later time.
The entire roof, made up of the modules, was then laid like a large veil of fabric on the structure formed by the three beams and then fixed to it. The foundations of the three beams were placed at different heights to gently adapt the roof of the pavilion to the surrounding context and each of its components was treated with a protective layer usually used for wooden structures as protection from atmospheric agents.
The pavilion presents itself as an important step forward in demonstrating how waste from other sectors, such as agriculture in this case, can be effectively used for the creation of sustainable architectural structures with high technical performance..